So, I tend to do a lot of different things. Most of those "different things" involve the very similar tasks of working in Photoshop, InDesign, Illustrator and punishing my scanner. Oh, and then I look at a lot of pictures of boobies.
I made this post on the UNPOP FUNBOX because we're encouraged to promote our work. I'm pasting it here, 'cause I want to promote my work.
First – Boyd Rice Presents: The Very Best of Little Fyodor's Greatest Hits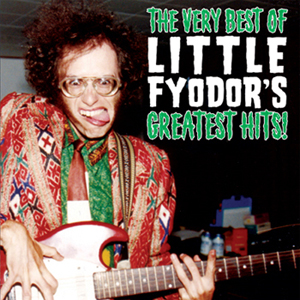 I did the design for the CD. I haven't seen a physical copy of it yet, but reports from Brian have been good. They'll be releasing the disc in November.
Available from http://www.discriminateaudio.com/ sometime soon. I'm sure there'll be an official notice here.
Of course, Little Fyodor is on this message board, but to give him a plug, here's his personal website: http://www.littlefyodor.com
Second -Celebrity Murders "Time To Kill Space"

This was my design project from start to finish. They told me "swarming rats" and I went with that. That's a crappy low-res image of the cover. Oh well.
The label describes the CD as:
"Filthy and overcrowded to the point of insanity, NYC's bleak political and social realities have always shaped the music, lyrics, and lives of the punk bands that inhabit it. CELEBRITY MURDERS are simply the latest to scream back. This 17-song debut is a product of their relentless live shows and frenzied rehearsals in a city that won't let you sleep. The music is heavy, fast and ugly: like the city they still call home. Their cover is a custom piece from Rev. Kevin Slaughter of the Church of Satan that reinforces the disturbing nature of the music that's recorded. NYC is falling apart, here's the soundtrack."
Available for only ten fuckin' bucks postage paid from http://www.chainsawsafetyrecords.com/
I also run their website at: http://www.celebritymurders.com/
Third – Crazy Streak By John Gilmore


The publishing company that my pal Chris X and I run has just recieved an advance shipment of copies of the book "Crazy Streak" by author John Gilmore.


It came out looking exactly like I designed it, so that's a good sign. The few people that have seen it are overwhelmingly positive about the design, though I am standing in front of them and people occasionally overstate their excitement for your benefit so I can't really trust their responses.
Here's the promotional shit I wrote about it:
"CRAZY STREAK is a twisted excursion into seething sexuality, desperate alienation, incest and conscienceless violence; a book destined to be as controversial as Nabokov's 'Lolita.'
The wreck that really begins the novel is also what ends it. Long past the settling of steel and rubber, the bodies and brains of the travelers are beaten and twisted by hate, lust, booze and the sick heat of the Southern California desert wasteland.
This story is brutal in its realism. No fairy-tale romance or overly convoluted plots needed. It's not ironic or kitschy; it's certainly not begging to be loved.
CRAZY STREAK is as believable as some of your worst, most confused and visceral moments."
Not available yet, but soon to be from http://www.scapegoatpublishing.com
Fourth – Satanic Mass 12″ Picture Disc
This is at the pressing plant now. Chris X runs Adversary Recordings and I do all the design for it, etc. When I moved to Baltimore to work with Chris 3 years ago one of the first things we talked about was how great it would be to release a picture disc of this recording.
"Hear the first recording of an authentic Satanic ritual, performed in the notorious Black House, home of the Church of Satan for over thirty years. Anton LaVey (1930-1997) was the founder and High Priest until his death. This recording was orginally released on Murgenstrumm Records in 1968 and then rereleased on CD in 1996. This is the first time it has been available on vinyl since the initial release. This record also features Dr. LaVey reading selections from The Satanic Bible."
Available for pre-order now at: http://www.adversaryrecordings.com/
I guess those are the notable things. I'm working on a bunch of other stuff and a number of other CDs and things that I've worked on have been released.
Later tonight I am going to be making t-shirts with this design on it, 'cause I think it's really funny:

No related posts.